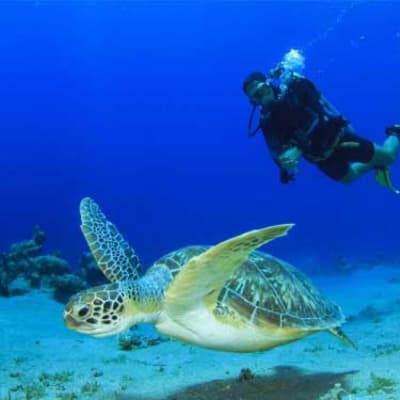 Dive and Snorkel
Experience the incredible sea life of Belize, including sea turtles, dolphins, coral reefs, and fish of all sizes and colors. Snorkel equipment is available for rent from local outfitters. Diving tours are available from several local outfitters. We are happy to set up your tours for you or recommend companies that we know and enjoy. Please respect this delicate ecosystem, and don't touch or disturb any sea life or coral.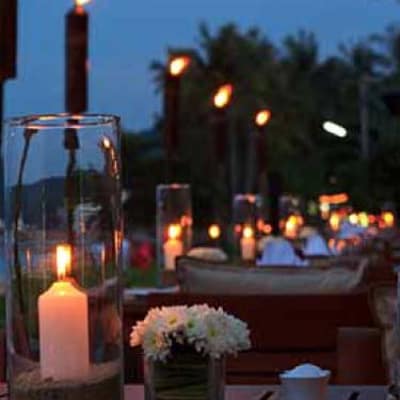 Island Dining
Where to Eat?
Excellent food is easy to find on Ambergris Caye! Beyond the doors of our gated villas there are a number of budget and high-end options that are sure to please!
The following is a list of our top 5 favorite restaurants for DINNER:
Hidden Treasures - This open-air (but covered) restaurant is fine dining at it's best! While this place does not have a beach view, it is so classy and well landscaped that you actually don't miss the water. HT is located South of San Pedro by about a mile and is hidden back in a residential area towards the lagoon side of the island. The breeze and multiple fans gently moves the gauzy curtains that surround the seating platform for guests' comfort and is lit by charming candles, twinkle lights and well placed lighting with soft music in the background. Non-intrusive mosquito repellent coils also surround the platform to ensure that they don't bother you while enjoying your outdoor dining experience. The menu features a variety of proteins from seafood to chicken to beef - all done to perfection! The menu is a creative affair with Caribbean flair and flavors that are sure to delight even the pickiest eaters (like Brian!). Pricing is on point with fine dining and will range from $30 to $50 USD per person including beverages. Reservations are recommended.
Elvi's Kitchen - Right in the heart of San Pedro, located on Middle Street just one block in from the Town Square/Water Taxi, sits a jewel of a restaurant! If you are looking for delicious Belizean food and creative dishes with a touch of Mexico, this is the place to go. While it is not located on the beach, they bring the sand to you! The entire restaurant floor is sand and features a huge tree in the center of the dining room lit with twinkle lights and vibrant decor. Every Friday features their Grand Mayan Buffet for dinner (buffet closes at about 8:30pm, so don't go too late if you want that for dinner!) as well as their full dinner menu. Pricing ranges from $20 to $30 USD per person including beverages and reservations are recommended.
Truck Stop - Not quite sure what you are in the mood for or can't agree on what cuisine everyone wants to eat? Head on over to the Truck Stop! This place is located North of the bridge to San Pedro about a mile after you cross the bridge. This outdoor restaurant is 3 restaurants and bar in 1! Individual food 'trucks' have set up shop with a variety of different options of cuisines, a bar for beverages and even an ice cream truck! The Truck Stop is always good for a fun atmosphere, game of corn-hole or Giant connect 4 game, a pool, trivia, a movie or live band. Prices range from $7 to $15 USD per person for food with beverages based on your bar tab! No reservations needed, just a desire to kick back and have a great time!
Caliente - Ready to try some Mexican food? Head on over to Front Street to the waterfront restaurant that's known for their Margaritas! Caliente is perfectly positioned for a beautiful view with dinner on their open air back deck. The first bowl of chips and salsa are complimentary but your next bowl will cost you so eat chips slow, enjoy the scenery and your dinner will be at the table before you know it. Tip: save some salsa if you order the guacamole, it'll need the help for some flavor. The menu features items such as seafood, chicken, beef and veggie options with good sized portions at a fair price. Dinner will cost you about $20 USD per person with adult beverages. Reservations not needed.
Taste of Thailand - We believe that we are VERY lucky to have such a wonderful restaurant literally next door. As fans of Asian food (it was served at our wedding, we like it that much!), we have been a little wary to try Chinese food on the island. However, we had heard great things about Taste of Thailand and they did not disappoint! Brian is a huge fan of their hot and sour soup and I have enjoyed anything that I have gotten from there. Their prices are great and portions are big, so be prepared to take some home with you! A dinner for 2 with beverages will run you about $30 to $50 USD. They are not typically crowded as they are off the main road, but I hope they are around for a long time because the smells coming from their kitchen every night are mouth watering!
There you have it, your dinner line up for your 5 night trip to Belize! There are many many other places to eat, these are just the ones we have tried and enjoyed so far. We love talking to our guests to see where they ate and get their experiences!
We look forward to working with our favorite eateries and being able to offer special VIP deals that can only be gotten by showing your Tropical Dream Villa key ring! Just another way we are working hard for our guests to be able to Vacation like they live here!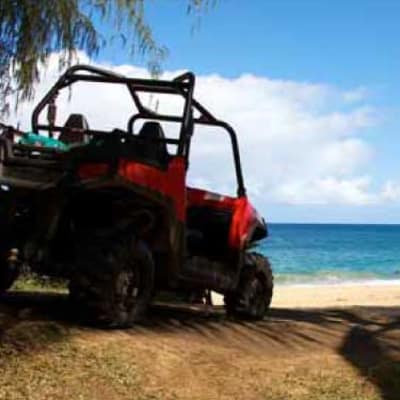 Belize Mainland Tours
The Mecca of Mayan Culture
Want to spend some time on the mainland soaking up the culture of the ancient Mayan civilization? The tours on the mainland are some of the most amazing that you will have the pleasure to experience! Below are some of the activities that you can enjoy while on your Belize vacation:
River Cave Expedition
Waterfall Cave Expedition
The Black Hole Drop
Lost World Ceremonial Cave Tour
Wishing Well Expedition
Overnight Caving Expedition
River of Caves 7Miles Cave Tubing
Honeymoon Overnight Cave Expedition
Actun Tunichil Muknal (ATM)
Full Day Jungle Trek
Overnight Jungle Expedition
Jungle Quest Expedition
Bird Watching
Jungle Safari After Dark
Belize Zoo & Baboon Sanctuary
Xunantunich & Cahal Pech
Tikal Full Day Trip
Belize Ziplining
We would love to help you plan your trip to get the most out of your Belize adventure! Please let us know which activities you would like to do while you are here and we will provide you pricing and schedules to ensure that you experience the time of your life in Belize!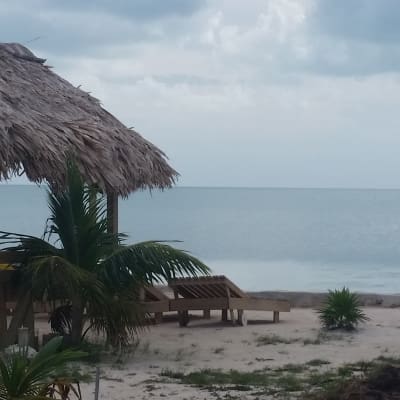 Secret Beach
Ambergris Caye's not so Secret Beach
Looking for beautiful, quiet, remote beaches with gorgeous views of the Caribbean Sea? Look no further than Secret Beach! While it is a scenic 45 minute golf cart drive to get there, the trip is worth the drive!
For many many years, people would head out for Secret Beach with everything needed for the day packed in with them. Nowadays, there are 4 bar and grills, some beach seating and shady palapa's to enjoy during your beach time!
We will have insulated beach bags available for our guests to be able to take to the beach with them! The bags have wheels and pull handle for easy transport, shoulder strap for easy carrying and securing to your cart, thick insulation to keep your ice frozen and food and drinks chilled, extra pockets for your personal items and BTDV provided local cell phone with room on top for your BTDV provided beach towels!
Make sure you reserve your VIP preferred pricing golf cart from Belize Tropical Dream Villas when you pick your date for Secret Beach! You will also want to make sure you have $5 USD/$10 BZD with you to pay for the toll across the bridge. Grab your sunscreen and head out before noon to enjoy your Secret Beach day!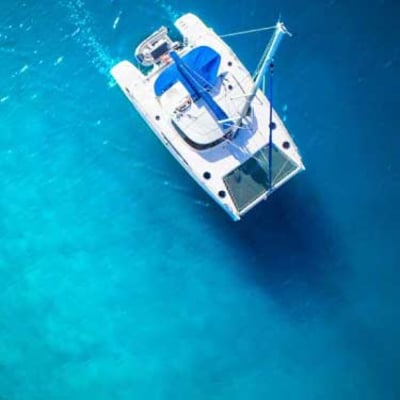 Water Tours
There are many water tours that will show you a wonderful time on the gorgeous blue waters of the Caribbean! Let us help you pick the right tour company for the experience that you are looking for.
While most are excellent at what they do, not all of them have followed the requirement of being licensed. All of our preferred tour companies are licensed operators and guides to ensure that you have a safe and fun day on the water!

Book your stay today so we can get to planning your vacation activities!