Welcome to Belize Tropical Dream Villas
Vacation Villas located in San Pedro on Ambergris Caye, Belize
From arranging your transportation from Belize City to taking a delicious food tour or Cave Tubing on the mainland - Belize Tropical Dream Villas will ensure you a comfortable, easy, enjoyable, and memorable vacation! Our villas are the perfect accommodations for budget conscious travelers that are wanting to vacation like they live here, with all the comforts of home!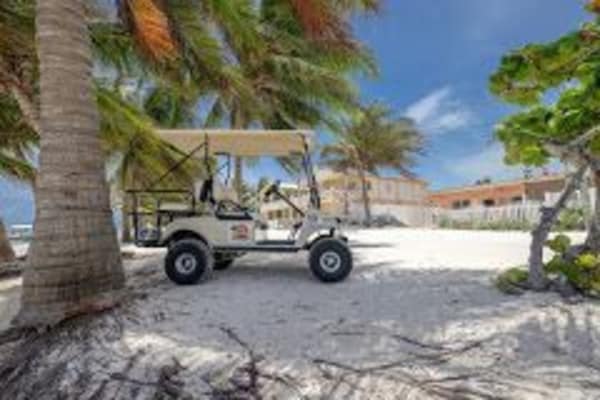 Why book direct?
There are many ways to book our property, here's why you want to book directly with us!
So you're ready to book your accommodations for your next vacation? Here's why you should book directly with us!
- Website only special offer - Go explore the island on us! FREE 24 hour Golf Cart Rental*
- Great Rates, we offer a Best Rate Guarantee!
- Personal communication with the hotelier rather than using a middleman to communicate.
- Assistance with arranging transportation to and from our property from the international airport in Belize City
- No Booking fees from a 3rd party booking agent. The savings of those fees are passed on to both the guest and the hotel!
- We are your personal concierge that you can communicate with before you arrive. Need personal recommendations of tours, food, things to do that are tailored to the experience you are looking for? We can help with that!
- We are quick to respond and our reservation system is able to make adjustments as soon as they are entered if your plans unexpectedly change.
Check our availability for your travel dates today!
*Direct bookings of 4+ nights made from January 25, 2019 forward are given 1 free 24 hour golf rental ($50 USD value) during their stay (1 day advance notice required, gas refill to 1/4 tank is not included - it's about $10BZD)
Check Availability!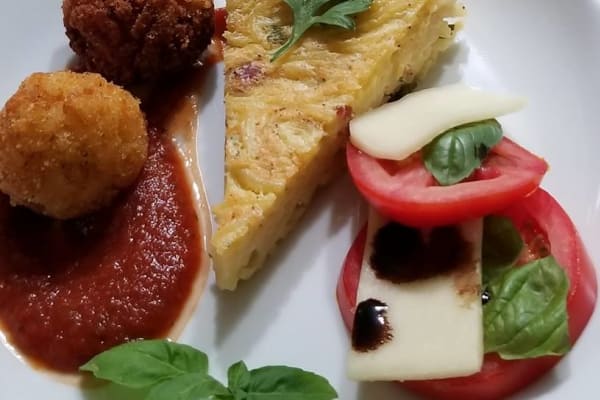 Guest Amenities
Appetizer Social Hour
One of our most popular amenities is our Complimentary Guest Appetizer Social Hour!
Twice a week on Monday and Friday afternoons we invite our guests to join us on the 3rd floor covered terrace for a relaxing time of visiting with other guests from around the world while enjoying Lisa's appetizers before heading out for the evening! This is a great time to hear what other visitors have done while in Belize and make new friends!
Have a dietary restriction? Not a problem, let us know in advance and we will ensure that everyone has something to snack on!
Ready to book your stay with us? Check our availability for your next vacation in San Pedro Belize!
Yes! Which unit's are available?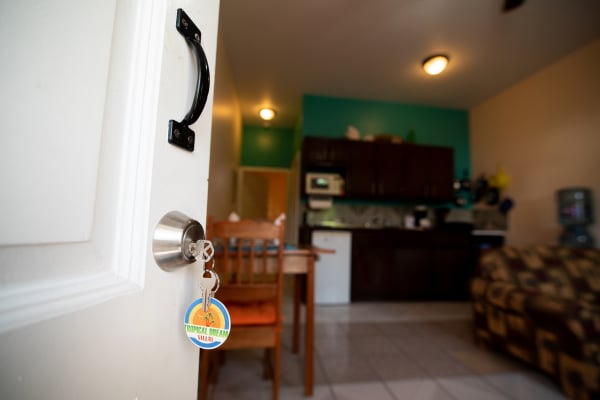 VIP Guest Offers!
Our guests receive special discounts and offers from our island partners!
The key to your comfortable serviced San Pedro Belize apartment opens more than just your door!
Our guests need only their key ring to unlock special offers and discounts at our island partners, who are excited to give you the VIP treatment!
Ready to book your stay? We are excited to have you as our guest!
Check Availability
Overview
If you want to experience the lifestyle of living in Belize during your stay, our apartment villas are the perfect setting to base your stay! We offer VIP rates on golf cart and bike rental and are happy to assist you in your travel plans to ensure a smooth arrival and departure on your vacation.

Amenities Include:
Daily Housekeeping
Complimentary Guest Afternoon Appetizer hour for our guests twice a week (Mondays and Fridays 4:30pm-6pm, November-May)
Local Cell Phone for communication during your stay
Full Kitchen with Stove/Oven/Microwave/Coffee Pot, Blender, Toaster, Refrigerator
Kitchen Essentials (dishware/cookware/utensils/glassware)
Bottled Water for drinking/cooking (not necessary but better than tap)
Starter pack of Coffee, Sugar, Creamer, Salt/Pepper, Season All, Garlic Powder, Onion Powder, Lemon Pepper
Welcome basket with snacks and beverages
Ahhhmazing Premium imported Bed Linens, Towels, and Beach Towels
Imported Serta King Mattresses with Custom Headboards
Extra Pillows and Blanket In Every Villa
Hangers/Iron/Umbrella
Custom Bathroom Mirrors and Vanities
First Aid Kit, Flashlight and Hair dryer
Soap, Shampoo and Conditioner, Hand Soap, Dish Soap
Ice Cold Air Conditioning
Floor and Ceiling Fans for Excellent Ventilation Throughout the Villa
2 (yes that's two) 37 inch Flat Screen TV's with Full Cable Package (DVD player and videos also available), TV's are in the living room and bedroom
Complimentary Wireless Internet Throughout the property
3rd Floor Common Area Covered Patio with Sun Shades, Deluxe BBQ Grill, Table and Chairs, Hammocks are all for guest use
Washer/Dryer on the property, Free to use - detergent available for purchase ($6BZD)
Fenced and Gated Secure Lighted Property
Free Street Parking
Bike and Golf Cart Rental (delivery and pick up right at our property!)
Tour and Activity set up services available before or during your stay
On Site Owners that love what they do and will do everything they can to ensure your stay is more than you had expected!
Learn More
San Pedro, Ambergris Caye Belize
Belize Tropical Dream Villas
Let's keep in touch!
Enjoy hearing about our adventures on the island? Like and follow our Facebook page at https://www.facebook.com/belizetropicaldream/
Subscribe to our newsletter and be the first to learn about our seasonal promotions, blog posts, and special deals!
By clicking "Sign Up" I agree to the Terms of Service.
TripAdvisor Reviews
We strive to provide an exceptional level of service for every guest, and are proud to have a 5 star rating on TripAdvisor.
Read our Reviews!